Do you wanna start a blog? Wow! Great idea☺️. But, Are confused about how to start a blog ?
Then, Keep Reading…… I wanna share so many things With You.
You can easily Start a blog in few minutes in few steps but before starting a blog you should have cleared these concepts which are listed below:
Why Should you start a blog?
What Do you need for create a blog?
What is Domain and Hosting? (Very Important Descision)
Choose Right Platform for Start a blog
What is Niche Blog and Why is it's important?
Finally….
7 Steps For Start a Blog
1.Choose Best Domain and Hosting
2.Install WordPress On Your Domain
3.Do Some Necessary SEO Settings
4.Install Beautiful Theme and Some Necessary Plugins
5.Write and Publish Your First Post
6.Finally Launch the Blog! Add Blog to Search Engines Like Google, Bing, Yandex etc..
So Let's Begin With Concepts Which we Should cleared before starting a blog:
1. Why Should you start a blog?
Here are lots of reason behind to start a blog For example:
You can Share you Knowledge and Your Thoughts through Blog and also make money through it.
You will get lots of traffic through blog without paying any cost. Just! You have to put little bit hard work.
You can make a passive income source through your blog
You can Promote your products or services through blog
You can make your writing skills much better through blog.
You can connect with more people's through blog.
You can grow your web skills and more.
2. What Do you need for create a blog?
Choose a Domain Name (Your Blog name)
Choose a Best Hosting (Where your Website Will be Hosted)
Choose a best Blogging Platform Like WordPress
Setup WordPress on your Domain
Choose a Beautiful theme for your blog
Write and Publish your post
3.What is Domain and Hosting?
3.1 Domain
Domain is your blog, brand name. Domain name is identity of your blog on internet. People's will find your blog or brand on internet through your domain name.
Your domain will be look like this:
https://www.yourblogname.com
Here, "Your Blog name" is your blog name and ".com" is a domain extension. Here are many types of domain extension for example .net, .in, .org, .co.uk etc..
.com domain extension is used for target the world wide Audience and other domain extensions like .in, .co.uk are used for target a specific country audience.
I will recommend you for buy .com domain because as I said, you can target world wide audience through .com domain extension.
3.1.1 Sub-Domains and Free Domains
Sub-Domain:
It is the part of your primary domain. For example if your primary domain is "yourname.com" then your sub domain look like "store.yourname.com" and You can add any word whatever your likes.
Free Domain:
Free Domains extension end with .ml, .tk, .ga, .cf, .gq etc.. Some Blogging Platform like WordPress, Blogger, Tumblr are provides sub domain Which are also free.
But, Some Search Engines doesn't allow to add free extension domain in his search engine. And It's very hard to rank free extension Domain sometimes it's become impossible.
Anyway I will recommend you never Choose a free extension Domain otherwise you can loose your blog.
3.1.2 Tips For Choose a Best Domain Name
1.Always go for the .com
As I said you above, .com domain extension doesn't have any limitations and you can globally reach out to your audience through .com domain.
2.Choose a brandable name
Always try to choose unique, easy to memorize, easy to pronounce, sounds trustworthy Domain.
3.Keep it short and simple
Don't make your blog name so complicated and lengthy. Always keep short, easy and simple domain name.
The best advantage of this, your visitors can comeback easily just putting name in search bar.
4.Choose a domain name you can legally own.
Check it Before, The name you have selected isn't Copyrighted or trademarked by any Company.
5.Target your area.
If, You are doing business local then You Should try to add your City and State in your domain.
For example: "Sonipatcarsrepair.com"
6.Avoid numbers and hyphens.
Always avoid to add hyphens, Special characters and numbers in your domain name.
Hyphens, numbers are in domain doesn't looks good and it's also not user friendly.
7.Be memorable
Your Domain Should be easily memorable. If , You are telling about your domain to someone. Then, make sure he can easily appeal it and it's sounds good.
3.2 Hosting
Hosting is place where your blog will be host. In simple words, If you wanna launch your blog publically then You have to take some place on rental for host your blog.
Here are mainly 6 Types of Hosting
1.Shared Hosting
It's best for entry level website or blogs. In this hosting your website will be hosted with multiple or more Websites.
In Shared hosting all website will be share the same CPU and Ram. Price of shared hosting is low as compared to other hosting.
2.Virtual Private Server Hosting
It uses virtualization technology to provide you with private resources on a server with multiple users.
It's a more secure and stable solution than shared hosting where you don't get a dedicated server space. However, it's smaller-scale and cheaper than renting an entire server.
VPS hosting is usually chosen by website owners who have medium-level traffic that exceeds the limits of shared hosting plans but still don't need the resources of a dedicated server.
3. Dedicated Server Hosting
This server gives more control to website owners over the server that thier website is store.
It's give you full root and admin access, which means everything from security to operating. All that comes with a price.
Cost of dedicated server is hig. But, it's worthy for those who have hight amount of traffic on thier website.
You need high level technical expertise for installation and ongoing server.
4. Cloud Hosting
In this hosting, many computers working together, running applications using combined computing resources. It's a hosting solution that works via a network, like the internet, and enables companies to consume the computing resource like a utility.
Cloud-based hosting is scalable, meaning your site can grow over time, using as much resource as it requires and you only pay for what you need.
If your website is hosted on Cloud Hosting. Then, the chances of downtime of your website is very low.
5. Managed Hosting
Managed Hosting is a dedicated server. In which the hosting provider do setup, Installation, maintenance, monitor, Secure and patch for you.
Managed Hosting accounts remove your root/system-level access but let you control all other aspects of your server.
6. Colocation Hosting
A colocation provider will rent out space in a data centre in which customers can install their equipment, but will also provide the power, bandwidth, IP address and cooling systems that the customer will require in order to successfully deploy their server.
4. Choose Right Platform (CMS) for Start a blog
I personally think and many big bloggers are already said, To start a blog and make it successful it's very important to choose right blogging platform.
Here are lots of blogging platform like blogger, WordPress, Tumblr, Medium, wix, Joomla and more.
But, The most used blogging platforms Blogger and WordPress.
Now, what are you thinking ? Which one is best for your blog.
Then, Read Below Some Pros and Cons of WordPress and Blogger.
4.1 WordPress
Pros of Using WordPress
WordPress is free and gives you full control over your website.
It gives you access to a huge collection of extensions, add-ons, and plugins to extend your website.
You have full control on your website, So you can make your website fast and SEO friendly.
You get more customisation options for make your website more attractive.
WordPress is so popular. Therefore, Almost all third party tools already have integration available for WordPress.
Cons of Using WordPress
It takes some time for most beginners to get familiar with it and learn the basics.
You are also responsible for security, making backups, and installing updates.
4.2 Blogger
Pros of using Blogger
Blogger is easy to use if you don't have any technical knowledge.
Creating a blog on blogger is absolutely free.
You get free hosting free from Google if you make your blog on blogger.
You doesn't worry about security of your blog. Because all the security related stuff is managed by Google.
Your website get index fastly in Google search engine.
Cons of using Blogger
You doesn't get more control over on your blog.
Blogger platform is only for blogging you can't expand it more like a business.
You doesn't get more customisation option as compared to WordPress.
4.3 Which is Best for Your WordPress or Blogger ?
I hope you have properly read the pros and cons of both WordPress and blogger.
Now, The questions is which is best for you you. So I personally likes WordPress due it's functionality.
But, You can also choose blogger. If you just wanna share you thoughts and your knowledge through your blog.
Then, Yes! You can can choose blogger.
But, if you wanna take your blog as a business. If you really want to make money through your blog.
Then, You should choose WordPress.
I hope you got your answer 👍.
5. What is niche Blogging and why is it's important ?
Before understanding, Why is niche blogging important? We should know, what is niche blogging?
So let's get started With…
5.1 What is Niche Blogging ?
In Simple Words, "Niche" means "a particular". and niche blogging is…
A blog in which you Shares your knowledge about a specific category. For example: If your blog is about smartphones then there you will only writes about smartphones.
In more Easy words, If you are doing niche blogging then you can't make mixture of all the Stuff like a news website.
5.2 Why is Niche Blogging Important ?
Do you really wanna make money through blogging in low effort and in low traffic?
Then, You have to do niche blogging. Because as I said, in the niche blogging we create content for a specific category people's. They may be your products buyer or may be your blog readers. It's depands upon you. Which type of traffic you want.
So if you are creating content only for a specific category then the competition is also go low and if your are targeting buying intent users then for sure, you can make money through it.
So Finally…I hope your basic concepts are now cleared about the blogging. Because Now we are moving to our 6 Steps which required for start a blog.
So Our first step for start a blog is…..
1.Choose Best Domain and Hosting
As I mentioned above, We need a name for our blog that is called Domain and We need to take some place on rent for host our blog that is called Hosting.
I have already told you everything about hosting and domain and I have also shared with you some tips. Which you should always remembered before buying a domain.
Now, on the basis of those tips. I'm going to take a domain and hosting for show to you.
In the market lots of companies available for buy domain and hosting. For example Bluehost, GoDaddy, Namecheap etc..
You can choose according to you. In this case I'm taking Domain and hosting from Bluehost. You can also Choose GoDaddy or Namecheap. The Process will be same like Bluehost.
So, The question is Why I'm choosing Bluehost not others?
Here are the some reason! Therefore, I'm choosing Bluehost.
Recommended By WordPress
2 Million Websites are already hosted on Bluehost
24/7 Customer Support
Free SSL Certificate
Free Domain Name (For 12 Months)
30 Days Money-back Guarantee
Best budget hosting (36 Months – $2.65months)
Fast page loading Speed
99.999% up time
Let See the Process for Buy Domain and Hosting from Bluehost:
Visit the link given below:
There you will be redirect on a page which is look like below picture:
Step 1: Select Hosting Plan
As You can See, There is three plan's. 1.) Basic 2.) Plus 3.) Choice plus. Now Which is best for you?
So, Let See a quick overview of all the plans and then we will decide which is best for us now?
1.) Basic Plan: It's starts from 3.95$/month. In this plan you can host one website and you get 50GB SSD Storage which is enough for new blog. In this plan you also get Free SSL Certificate, 5 parked domain and you can add 25 Subdomain. Bluehost also offers you 1 Free Domain and and 50 $ marketing credit Which is so awesome.
2. Plus Plan: It's starts from $5.95/month. In this plan you get more benefits as compare to basic plan but the price is also more then basic plan. Let See the features we get in this plan:
In Plus plan you can host unlimited website, You get unlimited SSD Storage, You get Free SSL certificate, You get unlimited parked Domains, You can create unlimited Subdomains, You get a free domain for 1 year, You get CodeGuard Basic Backup and $100 marketing credit.
3. Choice Plus Plan: This plan is also starts from $5.95/Month and in this plan you get all features same like Plus Plan.
But, In Choice Plus plan you $200 marketing credit which is 100$ in Plus plan.
So, If you wanna choose between Plus and choice Plus plan then you Should choose Choice Plus plan. Because in this we get extra marketing credit.
Now, I'm choosing basic plan. Because I think it's enough for a beggnier level blogger. You can choose others if basic is not suitable according to you. And then Click on "Select".
Step 2: Grab Free Domain
Now In this step, you have to choose a domain name for your blog. As I said you, Bluehost offers free domain to us.
So, In the new domain section. Just put your domain name in the search bar and click on next. If your domain is available then Grab it otherwise someone can take it.
If, You already have a domain then put your domain name in the "I have a domain name" section. And later change this Domain name DNS to Bluehost nameservers.
Step 3: Enter Your Account Information
Now, To start a blog with Bluehost, here we have to enter our personal details like Name, Address, email address etc..
Step 4: Confirm Your Hosting Package
After the details fullfill. Now, Confirm your hosting package which we have selected earlier.
Bluehost provides cheap price when we buy for 36 months so I'd recommend you go with 36 months and take advantage of Bluehost WordPress hosting.
Or else you can also go with 24 months because here you also get a lower price.
I you choose 36 months plan for hosting then you do worry about renewal of your hosting for next 2 years. You just have to renew your domain after 1 year.
Step: 5: Confirm Extra Add-Ons
Bluehost provides some extra Add-ons. These add-ons helps you for SEO optimisation, For more security of your blog and Keep your data more safe.
These are the 3 add-ons and their uses:
SiteLock Security – In this add-on we get these features like: Spam Monitoring, Malware Monitoring, Site Verification Certificate.
CodeGuard Basic – In this add-on we get these features like: Daily Backup, Monitoring and Restore.
Bluehost SEO Tool – In this add-on we get these features like: Search engine submission and 10 keyword ranking reports.
I would not recommend you for buy these add-ons, it's not more worth. Here are lots of alternative tools available which is more better than these add-ons.
Bt, If you have little bit more budget then you can buy Site Lock security for more make your blog more secure. I'm not saying it's so important but if you can afford then you should choose it.
Otherwise Don't Worry, Bluehost is very secure platform.
Step 6: Enter Your Payment Information
Now, We have to do payment for use the services of Bluehost. Bluehost provides you two options for payment.
Enter your payment information carefully.
Step 7: Create Your Login Credentials
After the successful registere, you will see a congratulation page and billing receipt. Please also, check your mail inbox because there Bluehost has sent you a confirmation mail.
Open your mailbox and click on confirmation link:
Now, A new window will be open there you have to create your login details for your Bluehost hosting account.
For this, Click on Create Password button and build a strong pass. Again Re-enter your previous password and Click on next button. And Now, You have successfully created your Bluehost login password.
So whenever you need to login Bluehost Dashboard use your this Email and password.
Finally….! We have a domain and hosting for start a blog. Now we have to choose a best CMS for create a blog.
2.Install WordPress On Your Domain
After creating login credentials,Now Bluehost will ask to you to pick a theme. It will be look like given below image:
Pick any theme randomly. Don't worry we will change it later because many more beautiful themes are available on WordPress.
After this, You will see a message like this
All Done!
You're just one step far from your WordPress Dashboard, Just click on "Start Building"
Now, You have to choose "personal" or "business" it's up to you or you can choose I don't need help.
Finally…. Now We are in the Bluehost WordPress Dashboard:
from where you will manage your data, layouts, design and everything that a user will see on your blog.
Here you will see a left sidebar with so many options to get info about them below:
Posts: Write a new post, Edit old Post and View your All post
Media: Here you'll see your media(Photos, Videos) Uploads and manage them
Pages: To Create and Edit blog pages(Contact us, About Us)
Comments: Approve, Disapprove Comments on your Blog Post
Appearance: Get a new Theme, Change Layouts and Customize Blog
Users: Manage your Blog users profile
Plugins: Add, Deactivate and Remove Powerful and useful Plugins
Don't worry about the all other options when you start using the WordPress dashboard you'll get know all about WordPress Dashboard feature.
Installing WordPress Manually on Bluehost:
Now, for some reason you deleted your existing WordPress installation or want to install WordPress on a new domain (Addon domain), you can follow the steps mentioned to do so.
1.Login to your Bluehost Hosting Dashboard
2. Click on Marketplace
3. Click on Add Website
4. Enter details
6. Click on next and select the domain on which you want WordPress to be installed.
7. Click on next and WordPress will be installed on your selected domain within 5 minutes.
That's it
3.Do Some Necessary SEO Settings
After Installing the WordPress. Now, We will do some necessary settings which is important also for SEO purpose.
So, First Thing We have to do is…
1.Delete Default Post, Comment and Page
For Delete default post Go to Posts > All Posts and delete the default "Hello world" post.
Similarly, For delete default pages go to Pages > All Pages and delete the default "Sample Page".
And finally, click on "Comments" and delete the default comment.
That's it! Our first setting is Completed.
2.Setup Permalink (Very important)
This one is very important setting as SEO purpose.
The default WordPress permalink is – http://yourdomain.com/p=123.
This permalink is short, but not friendly for search engines.
For make your blog Permalink search engines friends. Then,
Go to Settings > Permalink and select "Post name".
Click "Save".
3. Enable/Disable User Registration
If You want make multi-authour blog and want to accept guest posting then you have to Enable user registration . Otherwise, you can disable this option.
To allow this, tick off the "Anyone can register" box, and set the "New User Default Role" as "Contributor".
If you don't want people to register, don't tick the "Anyone can register" box.
4. Setup Discussion/Comments Settings
Now, go to Settings > Discussion.
This can get confusing if you don't know what to do here. But just follow the above screenshot and you'll be good.
5. Change Title, Tagline and Timezone
Next, you need to change the site title, tagline, and timezone settings. Simply head over to Settings » General page and change these settings.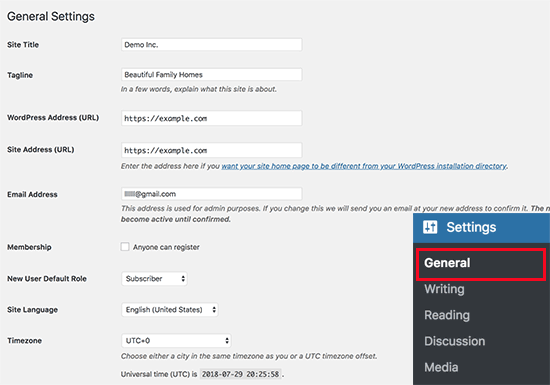 4.Install Beautiful Theme and Some Necessary Plugins
For start a blog successfully. After following all the above steps: Now we are going to install a beautiful theme on our blog and Then we will install some necessary plugins.
Installation of theme is very easy. You just have go to Appearance > Themes > Click on Add New and Then you can choose any theme which sutible according to you.
Otherwise, You can also upload any theme if you have purchased from anywhere. But please don't use cracked theme. It can harm and stole your website data.
If you wanna use paid theme on your blog then you can buy from there:
My Theme Shop
Themeforest
Genesis Theme
Astra
GeneratePress
5. Some Necessary Plugins You Should use on Your Blog:
WordPress becomes more easy-to-use with the help their plugins. You can easily make your website beautiful and search engines friendly with help of WordPress plugin and that's is the reason most of the pro bloggers recommend start a blog with WordPress.
So Let See some plugins which I use on my most of the blogs and you should also use those:
1.Yoast SEO Plugin
Yoast SEO is one of best and most used WordPress plugin. It's helps you to do all possible SEO optimisation for your blog post.
Yoast SEO make your optimisation work load so much less. It's also help you to check your post readblity score.
You can easily make your website XML sitemap with the help of yoas
Yoast SEO is a amazing plugin. You must use it.
2. Contact Form 7
This one is also very important plugin. I hope you have created a page of contact us in your blog. If you haven't did yet then Please do it.
Contact form 7 plugin help you to create and customise your contact us page in few easy steps.
For create contact us page with this plugin you just have to install and activate this plugin in your WordPress blog.
Then, Click on Contact in your left sidebar and Then click on add new and they will provide you you short code. Copy that short code and Go to pages > All Pages> Contact us > Paste Copied Short code . That's it. Your contact us page is ready.
3. Google Analytics Dashboard for Wp
This plugin help you for see the analytical data on your blog.
With the help of this plugin you can see all the activities of your blog. For example:
You can check the traffic comes on your blog is how much, From where the traffic is coming, on which pages the most traffic comes and many more things you can check with the help of this plugin.
4. Insert Header and Footer
If you don't want mixed-up himself with anyhow codings. Then, this plugin help you lot.
Basically, I'm use this plugin on my blog for verify my blog in search engines and use for insert Google Adsense auto ads in my blog.
5. AMP Plugin
This is also a very important Plugin and amp is one of the SEO ranking factor.
This plugin helps you to make your post and pages amp friendly in one click.
With help of amp you can boost your website speed.
6. Smush Image Compression and Optimization
This plugin is just not a plugin, it's a problem solver and the problem oversize of image's.
This plugin help you to reduce and optimise the images which you will use inside your blog.
If you will not optimise and reduce images in your blog post then it will increase loading time of your website and it will effect your ranking in search engines.
6.Write and Publish Your First Post
Now we have almost start a blog. Means it's time to write your first blog post. For write you first blog post take a look in the left sidebar and click on post.
When you have clicked on New Post you will see an Editor like below image and here you can build your post completely. It is easy and very simple to use, Well Below of this Image, I have also included some steps to how to write a blog post in WordPress dashboard.
Here are steps to write your first post:
Enter a Catchy Title
Edit your Slug/URL
Start Writing Text Content
Add Some Images and media
Add Category and Tags in Post
Upload Features Image
Hit on Publish Button
7. Add Blog to Search Engines Like Google, Bing, Yandex
Sooo..oh Finally we have start a blog and wrote an article on it and also we have done some basic settings. Now what else??
Now this time to launch your blog with audience. Yeah!
So, For reach out the audience we have to submit our blog in search engines like Google, Bing and Yandex etc..
So now the question is how to add your blog in search engines? For do this process follow below steps:
First of all we will submit our blog in Google Search Console and then we would add in another search engines.
Process For add your blog in Google search Console
Step1: Visit this link
Step2: Click on Search Console button which is in green colour.
Step3: There it will ask you for login with your Gmail I'd. Enter you Gmail I'd and do login.
Step4: After login in your account, now on your screen you will get a box there you have to put your website URL and then click on add "Property".
Step6: Now it will ask your for verification. There is many methods for verification. But I will recommend you for "HTML TAG" because it's easier than other.
Step7: Simply Copy the HTML tag and go inside your WordPress Dashboard.
Step8: As we have installed Insert Header and Footer Plugin. So, Now go to plugin and there paste the copied HTML tag in the header box and Click on Save.
Step9: Now again come in the webmaster and click on done and now it will verify your website Have you successfully paste the HTML tag in your website?
Step10: If you have properly added HTML tag in your website. Then, you will redirect on congratulations page there click on continue.
Finally you have successfully added your website in the Google and now you have to add your website content in Google, means it's time to add your website sitemap.
Process for add your website sitemap in Search Engines:
Note: This process will be same for all others search engines for add sitemap.
After adding your blog in search engine. You will get a new dashboard as shown below picture:
So our next step is….
Step 1: In your left side click on menu bar.
Step 2: There a option is "sitemaps" Click on it.
Step 3: Now Login your blog WordPress Dashboard and as we earlier installed and setup the Yoast SEO plugin. We will use it in our next step.
Step 4: In left side of your WordPress dashboard Click SEO > General.
Step 5: In the general section you will get a option of "XML sitemaps". There is a icon of question mark click on it. As shown in below picture:
Step 6: After Clicking on that icon a new link will be come out the name is "See the XML sitemap". Click on it, a new tab will be open.
Step 7: Which new tab is open there look at in the URL box. Copy the URL last few words that is "sitemap_index.xml".
Step 8: Again go to your webmaster Console > Sitemaps and then paste the copied URL words in the "Add a new sitemap section". And then click on submit. As shown in the below picture:
So Now Finally… You have submitted your blog sitemap in search engine. It will take some time and after 2-3 days your blog full content will be index in the search Engine.
Process for add your website/blog in Bing Search Engine
For add your blog in Bing search engine follow below steps:
Step 1: